How to take DIY Baby Photos during the Coronavirus Lockdown
You've had your little one and I'm absolutely heartbroken that I won't be the one to capture your newborn images for you. However, it doesn't mean you shouldn't have them. The newborn phase is precious, even more so in such a difficult time. So I wanted to put together some tips and tricks to help you get some DIY baby photos at home, either on your smart phone or a dSLR.
Lighting
For the best results set up near a large window. Direct sunlight will create harsh shadows so choose a time during the day when it is light outside but there is no direct sunlight coming through the window. This will leave you with a nice, soft, flattering light. Your baby will need to be at a 45 degree angle to the window, with their head closest to the window.
Set up
Get set up before you start settling your baby for their photoshoot. Use a beanbag, a large sofa cushion, a pouffe, or the bed and cover it with a blanket. Your little one will lie on top of the blanket but you may want to have some flannels, small towels, scarfs (or similar) nearby that you can put under the blanket to help provide padding and support your little one. If you can pull your blanket tight (attaching it to something can help), this will help give a smoother background on your final image with less distractions.
Timing
The best time to take your newborn images will be after they have had a feed, they have a nice full tummy and they are nice and sleepy. Take your time with it and enjoy it. You can always do it in a few parts if your little one isn't quite as settled as you would like.
Clothing
For natural portraits in the home, I would recommend having your baby either naked or in a plain white short sleeve vest.  If you have a stretchy scarf you could always have a go at a wrapped image. See the video for advice on how to wrap.
Posing
For those of you that follow my work and my page, you will know how seriously I take safety. There are many newborn poses that would be very dangerous to try without adequate training. A number of them are composite images which means they are created from multiple images. I will guide you through some basic newborn posing – please don't try the more complex poses at home.
For all your images you will want to focus on the eye closest to you. If you are using your phone, tap on the eye to focus on it. On a dSLR you will need to use the focal points and use one over the eye. I recommend trying keep baby's eyes level with the horizontal in your images.
Lay your baby on their back on the blanket that you have set up. Gently bring their legs up on top of their tummy and place a support under their bum and their head. If you are photographing your baby on a flat surface you may want to roll up a blanket and make a little nest for your baby. This will help them feel supported as well as help keep their little legs up. If you have a long scarf, you may want to wrap this in a circle around the baby for added support and to capture a variety of images.
Once they are in a position that you are happy with shoot from above. Shoot down the nose, you don't want to be able to see up the nostrils as this will be very unflattering.
Try to shoot from different angle and get some close ups of eyelashes, lips, hands and feet.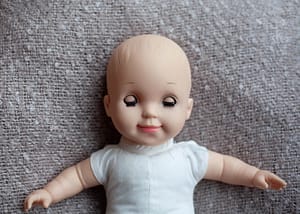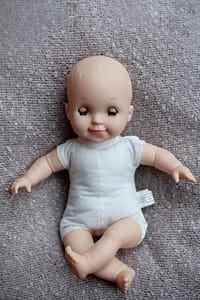 Then without moving your little one, fold the blanket over them as if they are tucked up in bed. You can add in a teddy here if you like. I often have parents bring along baby's first teddy and you can get a lovely image here.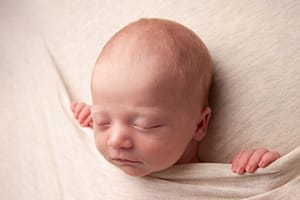 Close ups of eye lashes, feet, hands can also be really beautiful. Remember, they are only this tiny for such a short amount of time. Capturing those tiny details is important.
Another very easy image to capture in baby lying in Dad's arms.  Dad will need to be sitting on kneeling with his arms together resting on the bed (or similar), palms facing upwards. At no point is baby lifted in the air during this pose, it is captured on a black background and edited afterwards (please see the end of the blog to find my offer of editing). Place baby on Dad's arms and ensure they are secure. Photograph this image from above, again making sure that you are not able to see up the nostrils.
Siblings? Here is a pose which you can try. For this make sure that your children are lying on something soft, you may want to fold a duvet up on the floor and then cover it with a rug or blanket. In this pose baby's head is resting on her older brother's arm. Babies can be pretty heavy for young siblings so you may want to put something under babies head and siblings arm to help support them both. Either way, I would aim to set this pose up and capture it as quickly as you can. You will also need another adult who can sit very closely to the children whilst you take the photo. Young siblings may move without necessarily thinking about their baby brother or sister- this can be avoided if another adult is there to help.
Safety is the most important consideration during newborn photoshoots. Please stick to these basic poses and do not try to replicate the images you see on my page/ instagram or pinterest. Without appropriate training newborn photography can be dangerous and harmful to your baby. Some images are created with parents hands on baby and edited afterwards, some are combination of more than one image put together in photoshop. 
I hope this has been useful for you and that you are now able to use these tips to create some beautiful DIY baby photos at home. Please feel free to comment or message me with any questions. I'm also offering my editing services to 5 new mummies and daddies in Shropshire who have taken photos of their little one using these tips and would like them professionally edited, limited to 3 images per baby please.
Vicki is a trained newborn photographer based in Shrewsbury. You can see more of her baby photography here.
If you would like more ideas of how to make the first few days and weeks a little easier during the Covid-19 lockdown, Steph from Birth Nerd has written a lovely blog listing some very useful resources.
Find Us
Baby Photographer Shrewsbury
Family Photographer Shrewsbury
Cake Smash Photographer Shrewsbury
Unit 2, Condover Mews, Shrewsbury, SY5 7BG