Sitter Sessions at Victoria J Photography- baby photographer Shrewsbury
What are sitter sessions?
Sitter photoshoots are for babies who are confidently sitting unaided but not yet crawling. They usually take place between 6-10 months and they are so much fun!
At 6 months old your little one is no longer the tiny baby you once held in your hands. If anything the last 6 months have probably gone way to fast and you can't believe you're looking at the little person in front of you! They have developed so much and their personalities are beginning to shine through. Are they cheeky, shy, always smiley, serious? They most likely have huge smiles (especially for mummy and daddy) and may have started laughing! They have probably learned some funny faces and started to make the funniest noises! No matter what their personality, they won't be able to hide it from the camera and you will end up with a beautiful gallery of images from what is such a beautiful time in both yours and your baby's life.
Baby photoshoots at Victoria J Photography are very relaxed- I appreciate that some babies may want to be closer to mum and dad and may need a little time to warm up to the idea. That's fine! My sessions aren't rushed, I leave plenty of time between sessions for them to run over the hour and I will never be pushing to wrap your session up if we haven't got those images for you. Having said that, once you're little one is happy to have their photos taken, I work quite quickly.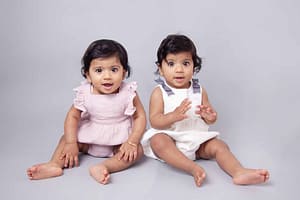 When is the best time to book your session?
You can book your session at any time before your little one is sitting- of course the earlier you book the more likely you are to secure the session when you want it. If you're little one is not yet sitting up, its no problem. As long as you are in the diary, I will make sure I have dates where I can accommodate you. Then when your little one starts sitting confidently, we can arrange a date and time that is convenient for you.
What to Wear?
Over the past 3 years, I have invested in some beautiful sitter outfits. These are all at my studio for you to select from when you arrive for your session. I also ask that you bring an outfit from home- it may be a special outfit that you just love to dress them in, something that you think really shows off their personality or a new outfit that you would love them photographed in. Of course, family are more than welcome to join in- if you would like family images, I always recommend sticking to similar tones and shades. You don't need to match (unless you want to) but wear colours that compliment eachother. Avoid huge logos and bold patterns as these will distract the eye in your final images.
Can Siblings take part?
Of course, sibling images are so important. I often have older siblings attend the session. This way we can get a lovely variety of images- including individual images of each child as well as your little sitter on their own and group photos. For older children, I ask that you bring outfits please.
What happens after the session?
1-2 weeks after your photoshoot, I will invite you back to the studio to view your images as a beautiful slideshow. It is at this session that you will select your final images and I can help you create the perfect piece of wall art for your home.
If you'd like to find out more about these sessions, please get in contact. I'd love to capture this incredible time for you, your family and of course, your baby! You can see some more of my work as well as packages here.
Find Us
Baby Photographer Shrewsbury
Family Photographer Shrewsbury
Cake Smash Photographer Shrewsbury
Unit 2, Condover Mews, Shrewsbury, SY5 7BG