Planning a lockdown birthday for children
I think the majority of us have probably had a lockdown birthday by now! My little boys birthday was the week after the first lockdown was announced and we had to cancel his very first birthday party. He was gutted and so were we. So when my little girl's birthday came a week after lockdown 3, we knew we had to go all out to make it as normal as possible. The 'novelty' (if you can even call it that) has well and truly worn off now and I think everyone is finding this lockdown harder than previous ones, especially little ones who find it hard to understand why they can't see their friends, their grandparents, their cousins etc.
So I've put together some ideas- some of the ones we used and some that I didn't but think look great!
Treat them to a wow cake! We usually buy a cake from the supermarket but as we couldn't book a party for Emily we thought we'd get her an amazing cake! We got a beautiful mermaid cake that she absolutely loved! Its difficult to get out and about to collect with restrictions but it may be worth trying to find a cake maker close to you to collect on your daily walk, I know there are plenty in our village!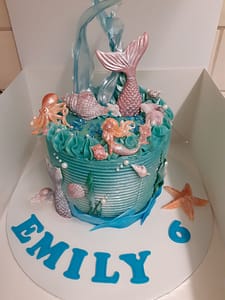 Decorate! Emily loves to decorate the house for parties, not with anything huge or fancy but with her own handmade little decorations and drawings, so we had to decorate for her. There are some amazing companies out there offering ecoparty decorations- you can hire the decorations, foil balloons, party plates and table pieces etc and then send it back once your done. Check out https://www.facebook.com/EcoPartyKits/, they are unable to offer collection during the lockdown but may be able to deliver and also have some wonderful little gifts.
Zoom Party- There are so many companies offering really fun zoom parties at the moment. Emily and her friends absolutely loved it and honestly, it was just so so nice for them to all see eachother. We used https://www.especiallyforyouparties.co.uk/ and they were absolutely brilliant! There are plenty of others offering discos, escape rooms for older children, craft parties where the crafts are sent out to the participants beforehand. Well worth a look and loads of fun for littlies, especially those that are missing nursery and school friends.
Get them involved in the planning! Get the teddies involved too if you have to and have a little house party 😊 Emily didn't know about the party, the cake or the decorations but she planned the rest of the day. She knew she wanted to open her presents first thing in the morning (obviously!) and then zoom Nanny and Bampy. She chose her favourite lunch and dinner and we told her we could celebrate for the whole weekend as we were in lockdown! If you're little one has a sweet tooth why not order afternoon tea or a treat box. We ordered a box and a half from Bake Shrewsbury for my birthday last year and it was amazing! The kids shared the half box and me and Stu the other and it was a lovely treat. There was loads too and we were eating cake for days- you can find them here: https://www.facebook.com/BakeShrewsbury. They also do the most amazing brownies!!
Present treasure hunt- you may not be able to play all the usual party games so why not create a present treasure hunt and hide the presents around the house and let them go find them? We also zoomed Emily's grandparents while she was opening her presents so they could be involved as best as they could be. I know this was just as special for my parents as it was for Emily.
Go for a walk to drop of some party bags to friends and family. Make sure you stick to social distancing measures and leave them on the door step.
Balloons and Dancing- My two absolutely love balloons, in fact they stay up for months after in our house because they keep them occupied for hours! Why not fill the floor with balloons and let them have some fun! And of course, put some of your little one's favourite songs on and let them have a dance in the house- this is something we make a point of doing daily at the moment!
Cinema night!- Get some popcorn and a film and snuggle up on the sofa with some blankets. My two love doing this (I think mainly for the popcorn to be honest). Let the birthday boy or girl pick the film and make a night of it. If your little one has siblings, there are a number of companies that rent out teepees for indoor sleepovers- check outhttps://ticklemyparty.com/. They also have some great blogs on planning sleepover parties for siblings and screen free entertainment for children during lockdown.
Whatever you decide to do, I hope you're little one has an amazing birthday. In such strange times, it's nice to have just a tiny bit of normal.
Victoria is a newborn and baby photographer based in Shrewsbury. If you're little one is celebrating their first or second birthday soon you can find out about celebrating with a cake smash photoshoot once restrictions are lifted here: https://victoriajphotography.co.uk/cake-smash-photography-shrewsbury/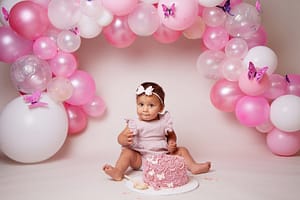 Find Us
Baby Photographer Shrewsbury
Family Photographer Shrewsbury
Cake Smash Photographer Shrewsbury
Unit 2, Condover Mews, Shrewsbury, SY5 7BG