New Parents- Why You Need to Get in the Photo!
As we entered lockdown and I had to explain to my children why we wouldn't be able to see family and friends for a little while, it got me thinking about the importance of family, the importance of capturing the precious moments and the importance of photography to preserve these memories. It also made me realise that I don't have a single photograph of my children with myself, my husband and my parents altogether! I was pretty horrified by this realisation and I have no idea why I didn't realise this sooner. Anyway, I got on the internet to hunt down a photographer whose style I love, in South Wales who can capture my family together, and I plan to have that image printed huuuuge for the walls! Of course I have plenty of individual parent/grandparent photos with my children (and my children love looking at all the photos on our photo wall!) but I'm desperate for one together! One that can be passed onto my children, and their children. I can't wait!
How many photos do you have of your little one your partner and you? How many aren't selfies? Apart from our professional photoshoots, we barely get any. I take loads of my kids with my husband in a few. He takes some of me and the kids. Never do we get one altogether. But they are important! In a long time from now, photographs will be how my children remember me! If I'm not in them, what will they have to look through. Certainly USB's will be long gone, just like CD's are on their way out.
But it got me thinking about my sessions. And just how many parents ask not to be photographed at their baby's newborn photoshoot. It's hardly surprising as mum will have just given birth but I always ask (multiple times) in an attempt to convince them that it's worth it!
There is no better time than when you are in the studio anyway! I've got 2 children myself. I know mum's especially wont necessary feel like getting ready for a photoshoot. You're both probably surviving on minimal sleep and your far from feeling your best! But you'll receive photographs at flattering angles, captured memories of unposed moments that show pure love between you and you baby and family images that wont be able to be captured after the newborn stage has passed. After all, they don't fit in your arms like this for too long!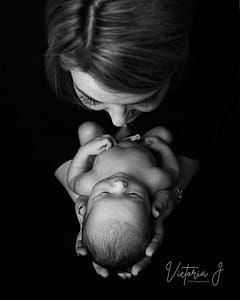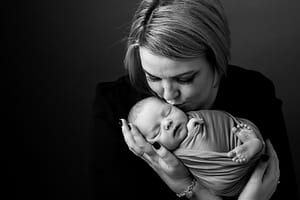 Parent images are absolutely some of my favourite to capture! There is nothing like seeing the love and adoration parents have for their brand new baby. A little look or a kiss on the head are little things that we don't think twice about, but make the most beautiful images!
And they can be as simple as you like. This is one of my absolute favourite poses. Simple. Timeless. Beautiful!
And of course, if you don't like them, you don't choose them! You have nothing to lose!
Victoria is a maternity, newborn, baby and family photographer based in Shrewsbury, Shropshire.
Find Us
Baby Photographer Shrewsbury
Family Photographer Shrewsbury
Cake Smash Photographer Shrewsbury
Unit 2, Condover Mews, Shrewsbury, SY5 7BG