What to Buy for Baby -My Favourite Baby Buys. By Shrewsbury Photographer, Victoria J Photography
I remember, when I was pregnant with Emily, being so excited to start buying things for the nursery, little outfits and other 'necessities'. And then when we were finally ready to start looking for things, I felt completely overwhelmed. Until I started looking I had no idea of the absolutely huge amount of baby products that are on the market. And, of course, like most expectant mummies, I had no idea what I needed or didn't need.
So with that in mind I wanted to share with you some of my absolute favourite buys that we had for our two little monkeys (aside from the usual stuff). Some of which we purchased before they arrived, but most of which we got whilst they were here. Surprisingly, a lot of the stuff I thought we needed before we had a baby didn't make it onto the list!
I loved this! It's a gorgeous little crib for baby which attaches to the side of your bed. You can choose to have the side closest to you down so you have total access to baby all the time, or have the side up and treat it like any other crib. This gave me so much peace of mind when we first brought Emily home from the hospital. She didn't sleep too well to begin with in all honesty but I don't think she would have slept well anywhere! But while she was in there it was so so easy to check on her, which you do, about 1000000 times a night when you are a new mummy!
Emily was bottle fed so I didn't experience the true benefits of it until we had Edward who breastfed and breastfed and breastfed! The little boob monster fed every night for what felt like forever. I wondered whether he would ever sleep through the night and the sleep deprived mombie that I was really appreciated the fact that I didn't even need to get out of bed to pick Edward up! Simple things! But anything to make life easier in those first few crazy (and brilliant of course) months is a winner with me!
There is also loads more space than in most cribs! Emily and Edward both stayed in the next to be crib comfortably until they were 6 months old.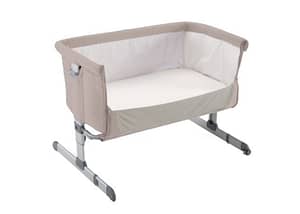 I promise the whole blog isn't just sleep related but I think it's a pretty big deal to sleep deprived parents! And to be honest, it was probably one of the biggest hurdles we faced with Emily. She was a reflux baby so sleeping was pretty uncomfortable for her a lot of the time. Emily loved cuddles. She loved cuddles most during the middle of the night and I often ended up holding her on my chest for most of the night whilst I was absolutely terrified
of falling asleep like it. We tried everything! We had a reflux pillow which helped massively but she loved the comfort of a cuddle.
After we thought we had exhausted every option I came across the sleepyhead. It had the most amazing reviews but we were both a little reluctant to part with the cash- its not the cheapest product on the market and we weren't sure it would work. But honestly, some of the best money we ever spent!! Emily slept in there straight away. She would put herself to sleep in there which she had struggled to previously and I even remember taking it to her cousins 1st birthday party and she had her nap in the garden surrounded by toddlers!
We had the deluxe and found that was enough, but there is a bigger vesion for when they grow out of it! Thankfully my two both slept fine without it once they had outgrown it.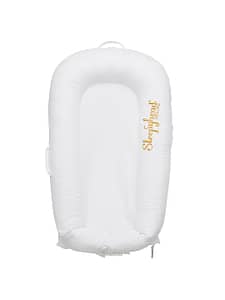 This was a gift from my workplace when I was pregnant with Edward (our second child). We had used something similar with Emily and it had helped her sleep as she got older. I used it almost from birth with Edward and he LOVED it!! The sounds sent him off the sleep immediately and he self settled from really early on with these sounds. At 2 months old he was putting himself to sleep for all his naps and in the evening. I just had to pop him in his sleepyhead and put Ewan on for 5 minutes.
Stretchy Wrap
Baby wearing was a life saver for me with both my children, for different reasons. Emily would sleep much better in a baby carrier (at the time we had the mothercare 3 in 1 baby carrier) as she was upright. So with Emily I would dance around the house, do the hoovering, do the washing up. Anything that would help her get off to sleep and it also gave me a bit of freedom to do the things that would otherwise never have got done.
With Edward I had the a free rider stretchy wrap and I honestly don't know how I would have managed without it. Its something I would absolutely recommend for anyone having their second child and who will have a toddler and a newborn at home. I knew that leaving myself without any hands to help/catch/play with my toddler would have been dangerous territory! The stretchy wrap was incredibly helpful when we were out and about (especially as Edward hated the pram!) but also when we were at home, if for any reason he was unsettled I was able to wear him whilst also sorting out the house and keeping Emily entertained! Perfect!
Its also a lovely way to bond with your baby. I loved the closeness of baby wearing! Looking down and seeing their little face, being able to steal kisses! And it's lovely and warm for them, especially in the colder months!
And for those baby wearers I also found the most amazing, chunky knit socks for use when they are in the sling and their little feet are out. I ordered them through httpss://www.etsy.com/shop/belleandbeauknits/?fbclid=IwAR1f1T_w0cXW-ZI9uSpqK_Zi55j9kYf4ql1dt6wDIn993JGM_BrP2KcQOZc. Belle and Beau luxury baby knits made the most beautiful socks for Edward and he wore them constantly in the winter. Definitely one for the baby wearing mummies!
Anyone with a newborn baby will understand just how often they manage to lose their tiny little socks! I don't know how they do it but I was constantly putting socks back on! Sock on's were fantastic and definitely saved us from the constant sock collecting/finding!
Medela breast pump hire service
This saved me when I couldn't breastfeed Emily. I was desperate to breastfeed and was absolutely NOT prepared to have any difficulty with it! It caught me off guard and I ended up expressing for 3 months (until I felt completely exhausted!). The breast pump we had got before Emily arrived was useless for me and I needed an electric one. I was suffering from mastitis A LOT and I think it was because the pumping wasn't as efficient as if I had been feeding Emily directly. I discovered the Medela rental service from the hospital staff and decided to give it a go. They delivered it to my house and picked it up when I was done and it was so easy to sort out!
This was such a good investment for us. Ours has lasted 5 years almost, and whilst it has got Sellotape across the top (after Hubby dropped it down the stairs!), its still in good working order and I still use it with Edward. The video gave me loads of peace of mind when we first started putting Emily down before we were going to bed. Yes, I used to sit there for ages making sure I could see her little belly rising and falling but at least I could keep an eye on her.
Plus it has been perfect for when they each moved into a bed out of their cots. Which is why it's still on for Edward in the evening! Staying in bed was nowhere near as fun as getting out of bed and climbing over the stairgate it seems! Thankfully the novelty has worn off I think so the baby monitor may finally retire now! Has had a very good run though!
We used this one (an older version). It also plays music and allows you to speak to them through the monitor (though this has never actually settled either of our children, instead they found it terrifying!), as well as tells you the temperature in their room and lights up when they start crying or making noise.
Bouncy Chair
I never actually thought about having somewhere to put baby down before Emily arrived. I held her constantly but the thought had never even crossed my mind beforehand. Shortly after she was born we were gifted a bouncy chair and she loved it! In fact both of them did. We chose one with lights, sounds, and loads of colour to keep her entertained and it was very well used with both our children. Just make sure you are aware of the safety guidelines with regards to sleeping in these chairs.  We had this one but I think they have updated it and have newer designs. Shame, this one had the best musical crab! Find some others here.
About your photographer
Victoria is a newborn photographer, working from her home studio in Shrewsbury, Shropshire. As well as these wonderful baby buys it's also a great idea to invest in capturing memories of this precious time. Find out more about my newborn sessions here. Or, please get in contact to discuss a session at Victoria J Photography.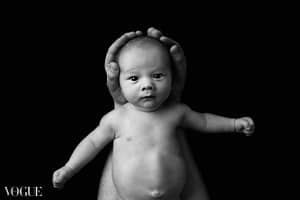 Find Us
Baby Photographer Shrewsbury
Family Photographer Shrewsbury
Cake Smash Photographer Shrewsbury
Unit 2, Condover Mews, Shrewsbury, SY5 7BG