Baby Hacks: How To Dress Your Baby for Cold Weather
Knowing how to dress your baby for every season can be difficult, especially if you live
in a place where it's cold one minute and balmy the next.
The changing seasons can also make it difficult to dress your baby and the last thing
you want is for them to be too hot or too cold.
Of course, you want them to be comfortable and baby clothes look so cute and stylish
on a little person but dressing them for extreme temperatures can be tricky and babies
love to let you know when they aren't happy.
This article will give you some tips on how to dress your baby for hot weather and for
the cold winter months. We will give you advice on how to check their temperature and
what they should be wearing for each season.
How to dress your baby for cold weather
Whether you live in a very cold country or you are feeling the chill of the beginning of
winter, making sure that your baby is protected from the cold is important.
● Layers are a brilliant way to keep a baby warm and adjust their clothing if they
get too hot. Start with a basic onesie layer and work up. Add on a t-shirt and then
a warm jumper.
Make sure their feet are toastie by either buying leggings that have socks
included or by layering tights with socks on top.
● Prepare for cold winds, rain, sleet, and snow by investing in a waterproof
snowsuit. This is a piece of baby outerwear that covers their entire body,
including their feet and hands, and usually has a hood.
Don't forget baby mittens, hats, and boots. Baby booties might sound silly for a
baby that isn't walking but boots can help socks stay on, as well as keep their
feet warm and dry.
● If you have a pram or stroller, invest in a footmuff which is like a padded sleeping
bag that fits onto the pram. It can be zipped up to their chests and it will keep
them warm and dry while in the pram.
Don't forget the rain cover which will keep rain and snow off them and can also
act as a good barrier against the cold wind.
● If you are putting your baby in a car seat during cold weather make sure to take
off their thick coat or snowsuit before strapping them into their car seat.
This is so they don't overheat and so that the safety of the car seat is not
compromised. If your car is cold you can put a blanket over them once they are
strapped into the car seat to keep them warm until the car warms up.
How to dress your baby for moderate temperatures
A good rule when dressing your baby is to dress them in one or two extra layers than
you need yourself. If you are feeling cold or too hot then your baby is probably feeling it
even more and unlike you, they cannot regulate their body temperature.
Here are some tips for dressing your baby so they are prepared for moderate
temperatures.
● Choose natural fibres such as cotton and linen which are breathable and allow
air to flow.
● Clothing with easy fastenings such as poppers or zips can make changing and
adding layers easier.
● Long sleeve onesies are the perfect base layer for babies. In warm weather, they
can be happy in just a long sleeve onesie. In cold weather, it is perfect for
layering jumpers with leggings or dresses creating a warm layer against their
skin.
● Dresses are a great base layer as you can add tights if it's cold or just socks if it's
warm. A jumper or jacket can be added if it is cold and then taken off when they
are too warm.
● When it is cold, remember to take off your baby's outer layer when you come
inside, just as you would remove your coat so that they do not overheat.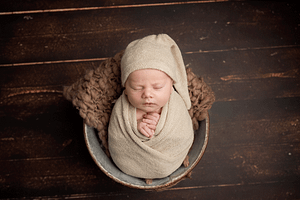 Vicki is a baby photographer in Shrewsbury, Shropshire. She offers maternity, newborn, baby and family photography.
Find Us
Baby Photographer Shrewsbury
Family Photographer Shrewsbury
Cake Smash Photographer Shrewsbury
Unit 2, Condover Mews, Shrewsbury, SY5 7BG