From 3 to 4- Preparing your toddler for the arrival of a sibling
Preparing a toddler for the arrival of their baby brother or sister is a challenging task. I know from experience that Emily wasn't really too sure what was happening. She was 2 and 2 months when Edward was due and whilst she knew I had a baby in my tummy, I don't think she realised that the baby was ever going to come out! I spent time talking to her about the baby, but I think in hindsight there was more I could have done to help prepare Emily. I thought I'd blog about preparing your little ones, with some tips based on our experience and some tips from others, that I wish I had known about...
Before baby arrives-
1. Talk to your toddler about their baby brother/sister. Talk about what you both think they will look like. Getting your toddlers baby photos out could be a nice activity here--talk about what they were like as a baby. Explain that babies need lots of cuddles, that they feed a lot and often cry to let you know what they want.
If you have close friends who have babies, your toddler experiencing that environment or seeing you holding another baby may help them understand how things will be with a baby in the house. This was a big one for us, Emily really didn't like seeing either of us holding another baby. I knew it would be difficult for her sharing mummy and daddy (Daddy especially it turned out) and I could prepare for that.
2. Let your toddler help you prepare. If you are preparing the nursery before your little one arrives, your toddler could help choose decor. Maybe let them decide on baby's first outfit or teddy.
3. Why not help your toddler choose a welcome to the world gift for the baby? My daughter loved doing this. We also got a gift for her from the baby which we gave her when she first met Edward in the hospital. They both still have their teddies and they provide lovely memories for us as parents too.
4. Books--there are so many lovely baby books out there all about being a big brother or sister. 'you're the biggest' is one of my absolute favourites. I bought this for Emily when Edward was a few weeks old and I cried the first time I read it because it is just beautiful. I recommend it for any siblings to be. I think anything that gets you talking together about welcoming a new baby will help, plus most toddlers love books!
Once baby arrives-
5. Let your toddler help out. It could be as simple as passing you the nappies and wipes. My little girl used to love helping with changing Edward. She also loved changing her dolls nappy when we were changing Edwards. It meant we had to donate a few nappies to the dolly toy box (the dolls needed their nappies changing far more regularly than our newborn baby!) but she loved feeling part of it. I love looking back at the photos because it was so cute!
6. Try to stick to your toddlers routine.
This is really hard initially and things may not run as smoothly as they did beforehand but sticking as much as possible to your toddlers routine could really help. Toddlers can often struggle with lots of big changes at once so keeping things as close as possible to usual routine will help minimise this. If it's possible to continue with your toddlers classes then do. Sticking to the same nursery days, bedtimes, meal times etc will all help keep things as 'normal' as possible for them.
7. Invitations to play whilst feeding can be really helpful! I lost track of the times I had to feed Edward and hadn't really given Emily anything to do and then trying to multitask keeping Emily entertained and feeding Edward was really quite difficult. Invitations to play for your toddler will give you time for you feed/change/settle your baby. Set up a couple of toys which you know they enjoy playing with. This will give you a little bit of time at least to sort out your little one.
8. And the hardest of all, be patient. I know as a sleep deprived, new mummy of two, patience wasn't something that I had in abundance, but I quickly learned that, for Emily, things had changed so dramatically that it was going to take a little while to adjust. I think it's important to prepare for behaviours that may arise. Your toddler is likely to be a little jealous, after all, they've not had to share mummy and daddy before. For us the main obsticle was that Emily really didn't like Daddy holding Edward and a lot of temper tantrums arose when he did. We were patient and for a little while it felt like we had one child each but it gets easier with time and as Emily adjusted to life in a family of 4, she relaxed and so did we.
It's also fairly common for potty trained children to start having accidents again. We didn't have this problem as Emily was not yet potty trained but it seems that remaining calm in these situations is the best solution. Again, as your toddler gets used to the adjustment things will most likely settle down.
9. Ask for help. I remember times where I felt completely overwhelmed with 2 children, one which fed all the time and one who had just entered 2 year old craziness. But my mum was around a lot for support which helped massively. It's likely that things around the house will get forgotten about and there will be a huge pile of laundry but that's OK, enjoy the time because before you know it they are 3 and 5 (where have my babies gone!)!
And then be ready to capture the most incredible moments that make your heart want to burst! I remember having the most horrendous day when Edward was about 6 months old. The kids were playing up, everything seemed to be going wrong and I was quite simply exhausted. Then I looked up to where Emily and Edward were sat on the floor and Emily leaned over to give him a huge kiss and she said 'I love you Edward'! It was so perfect that everything else was forgotten. Having any number of children is hard but moments like those make up for in tenfold. Enjoy it! I'd go back in a heartbeat to do it all again Xxx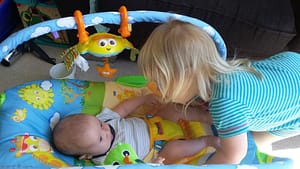 I'm Vicki, of Victoria J Photography, a newborn photographer based in Shrewsbury. Capturing sibling images with a newborn is an incredible part of my job! If you would be interested in capturing this amazing time then I'd love to hear from you. You can contact me here or find out more about my newborn sessions here. x
Find Us
Baby Photographer Shrewsbury
Family Photographer Shrewsbury
Cake Smash Photographer Shrewsbury
Unit 2, Condover Mews, Shrewsbury, SY5 7BG