"Let me love you a little bit more, before you're not little anymore"
Victoria J Photography- Cake Smash Photographer, Shrewsbury
It feels like only yesterday that your little one was born, and now they are about to celebrate their first birthday! They are smiling, giggling, crawling, maybe even walking!
Their first year is a year full of new experiences (for baby and parents!).
Exploring, and developing their personality!
What better way to celebrate their first year than with a birthday photoshoot!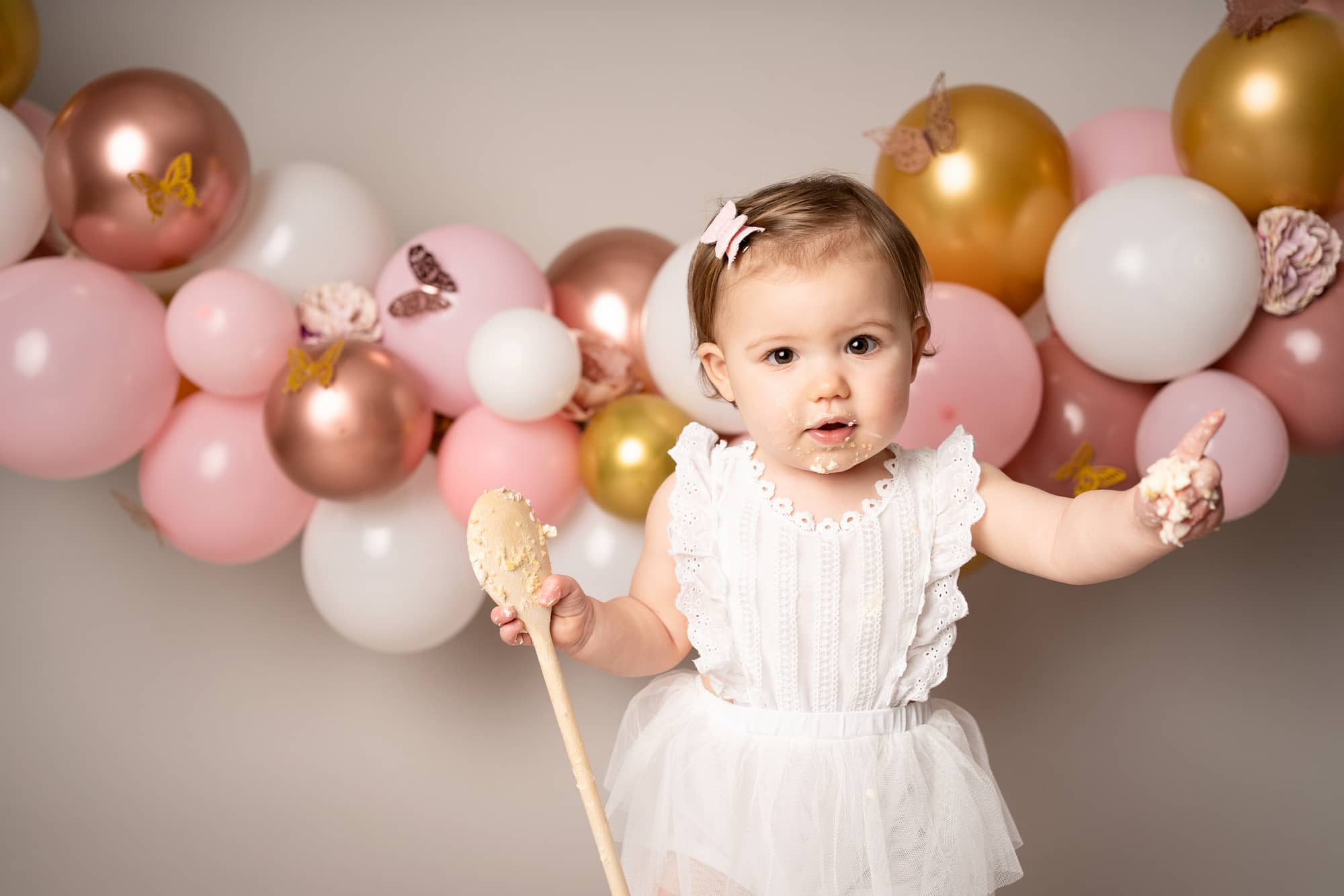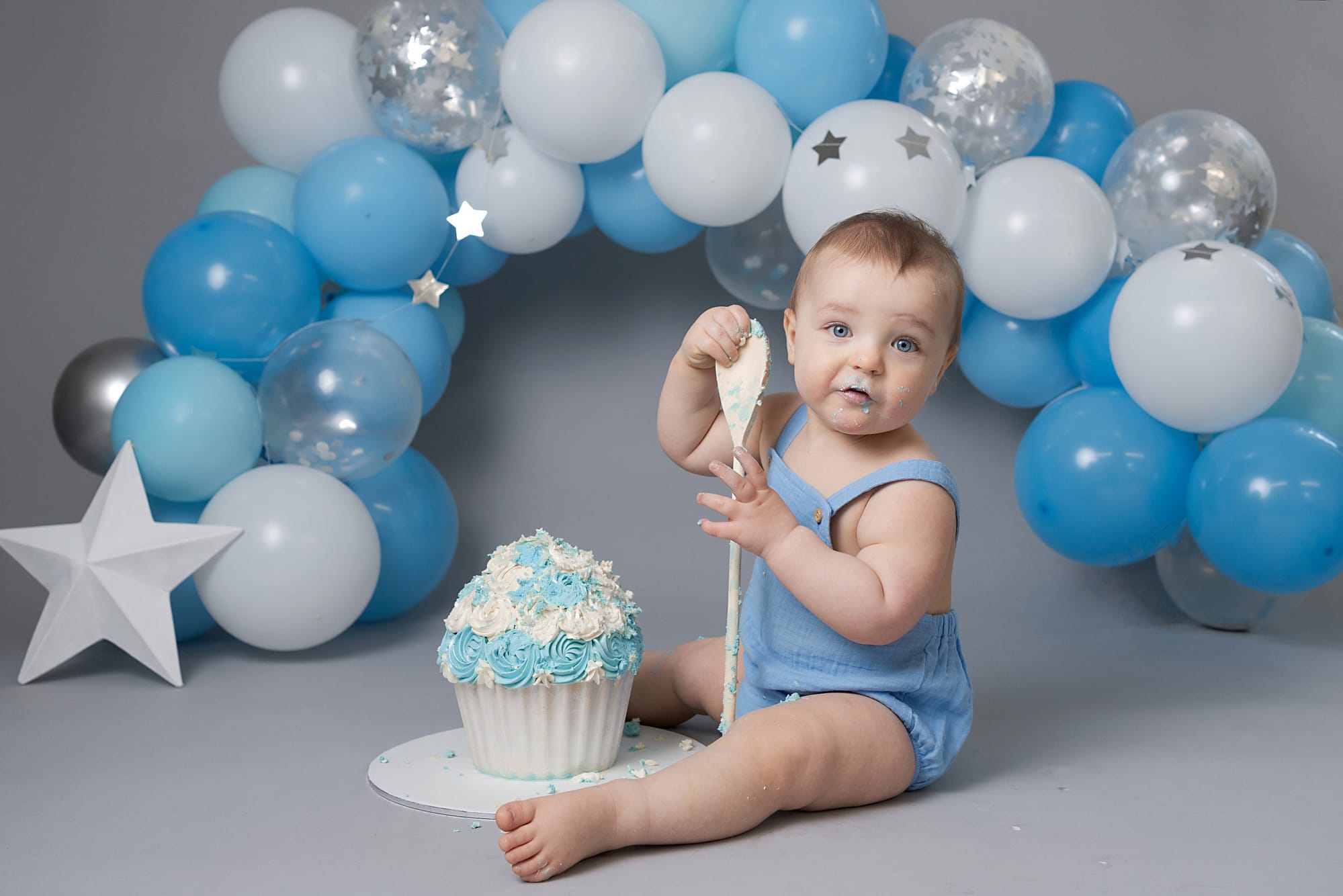 Cake Smashes are so much fun!
We start with beautiful, timeless portraits. You can get a family photo here too if you wish.
Then we introduce the cake smash set and the cake! Your little one can get as messy as they like!
The finally we finish the session with splash time in the tub– baby's love this!
Even better- everything is included for your cake smash photoshoot:
The cake
The set up to match your chosen theme or colour scheme.
The outfit
1-2 weeks after your session you will be invited back to the studio to view your gallery of approximately 20 beautiful edited images.
It is at this session that you decide on your package and any wall art that you would love for your home.
"We recently had our cake smash photoshoot for our little girls first birthday and the photos and experience were absolutely perfect!
The set up was exactly what we talked about, it all looked amazing and our little girl had so much fun she had us all in hysterics!
The photos really show her character and she wasn't afraid to get stuck straight into the cake – it was delicious!
After our newborn session going so well we just knew we had to go back to Vicki for our next shoot!
I can't recommend Victoria enough we've had really lovely photos to cherish forever from both photoshoots and she makes you feel comfortable in her lovely modern studio.
Thank you again."- Nicola
"We have used Victoria J for a Newborn and Cake smash photoshoots and she was amazing, so friendly, got amazing photos to cherish forever, we would definitely recommend her to future babies, she even gave us tips as newbie parents to help put our baby to sleep- so that it's always a win!" – Vicki
A £49 session fee is required upon booking to secure your session.
This includes your 1 hour cake smash session with bespoke design- including the set, cake and outfit.
The session fee doesn not include any images or products.
There are digital bundles, all inclusive packages or A la Carte products to select from once you have seen your images.
YOUR FULL GALLERY OF HIGH RESOLUTION DIGITAL IMAGES BUNDLED WITH THE MOST POPULAR PRODUCTS
CHOOSE FROM A RANGE OF BEAUTIFUL PRODUCTS WHICH WILL SHOWCASE YOUR FAVOURITE IMAGES AND LOOK AMAZING IN YOUR HOME.
Your favourite images presented as high resolution digitals on USB.
When is the best time to book?
For all my sessions, I recommend booking as early as possible to guarantee a space. Cake smashes can be done from 10+ months. If you would like the images back before your little ones birthday I would recommend booking for a shoot at least 1 month before their birthday.
Can we include siblings in the photoshoot?
Of course, we can get some sibling images during the mini portrait session before the cake is introduced. 
If you are wanting a joint cake smash for siblings then additional costs may be incurred for additional outfits, decorations and cake.
Can we include a family photo?
We will be able to get a family photo during the mini portrait session.
Due to limited space I ask that this only includes immediate family.
How long will the photoshoot take?
Cake smashes usually take an hour. We will have a mini portrait session at the beginning, then introduce the cake and clean off in the bath with some bubbles at the end.
Do we need to provide anything?
Only the outfit that you would like your little one to wear for the portraits to start. I provide the set up, the outfit and the cake.
If your child has any allergies, please notify me on booking so that I can source an appropriate cake. Or if you would prefer, you can source the cake and bring it with you.
What if my baby doesn't like the cake?
It's not uncommon for little ones to be a little unsure of the cake. Sometimes they don't want to get as stuck in as you may want them too and that's fine!
We have 3 parts to the session and you often find that if they don't like the cake part, they love the splash part at the end. 
What happens at the viewing session?
1-2 weeks after your photoshoot, you will be invited back to the studio to view your gallery of approx. 20 beautifully edited images. It is then that you will decide which package you would like, choose your images (if necessary) and discuss and choose any wall art that you would like for your home.
Once you have decided on your images, your prints and wall art will be ordered. Prints are usually ready within 7-10 days, wall art between 2-3 weeks.
Do we have to buy a package?
No, you are not under any obligation to purchase your images and there is never a 'hard sell'. Package choices are made at the viewing session, if you decide not to purchase anything then the deposit is returned to you.
If you decide that you would rather spend on wall art than a digital and print package, the minimum spend is £199.
Do you provide gift vouchers?
I will provide gift vouchers for full sessions, so for a cake smash session the minimum gift amount is £199 which would include the 'fairy cake' package. The recipient would then have the choice to upgrade at their viewing session.
Cake smash photographer Shrewsbury
Find Us
Baby Photographer Shrewsbury
Family Photographer Shrewsbury
Cake Smash Photographer Shrewsbury
Unit 2, Condover Mews, Shrewsbury, SY5 7BG