Behind the Scenes of a Newborn Photoshoot
So, you are thinking about a Newborn Photoshoot…
First things first, congratulations! And welcome to Victoria J Photography.
You might have already read that the best time to photograph your tiny one is when they are under 3 weeks of age, which means your Newborn Photoshoot might well be your very first little outing with your baby… quite a big deal!
So why not walk with me behind the scenes of a Newborn Photoshoot to discover exactly how the process works?
Ready? Let's begin!
BEFORE YOUR NEWBORN PHOTOSHOOT: PREP!
Ahead of your session we'll work on two aspects:
Styling of the session. Every newborn session is special and unique, so we will make time to talk about what you like/don't like and what you hope to get from the session.
On the day of the session, I will have different setups ready for you. At the start of the session, we will also spend some time selecting the backdrop colours, wraps and props.
Helping you and baby prepare for the session. I will help you every step of the way to ensure the entire experience is stress-free and absolutely memorable!
The session will take place at my cosy studio in Condover, Shrewsbury, and we will most likely start around 10am – because at this time as babies tend to be sleeper.
You'll be able to park right outside and make your way into the studio.
The studio will have been heated prior to your arrival and will be nice and warm. This is super important for keeping your little one happy. Brand new babies can't regulate their own temperature so it's important we keep the studio warm as they will be naked for the majority of the session.
While I set up the backdrops and get you some drinks, I'll ask you to strip your little one down to their nappy and wrap them up in a blanket to keep them nice and toasty.
In our consultation I will recommend that you try to feed baby either on arrival or just before you leave to come to the session. To achieve those sleepy, curly poses we want your little one to have a nice full tummy when they drift off to sleep.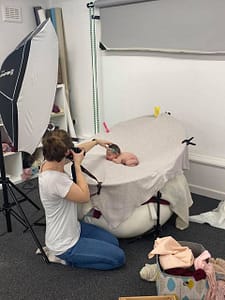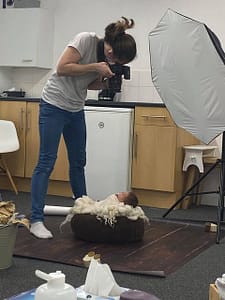 BABY LED?
Professional Newborn Photoshoots are never rushed.
In fact, part of what makes Newborn Photography different is that the photographer must completely adapt their workflow to your baby's needs.
Your little one will lead the way throughout the shoot with there being plenty of time for cuddles, feeding and settling. I will simply respond to their cues and work the session around them.
Never do I force a pose or leave a baby crying. Not every baby will be comfortable in every pose and that's fine, we will still capture a beautiful gallery of images for you.
Having trained with some of the UKs top newborn photographers, I know exactly where to put my hands, how to position your little one safely and the signs to look for to ensure they are safe and happy throughout.
Your little one will be in safe hands!
Once we get started there are 3 sections to each newborn photoshoot.
READY FOR… CUTENESS OVERLOAD?
First, we will capture those naked, squishy, curly poses that every new parent wants. The ones that capture all their tiny features and can only be captured in those first few weeks!
I will always aim to start with these, especially if your little one is starting to fall into a deeper sleep.
You will see how I will take plenty of time to ensure baby settles in for that first shot.
Baby needs to be sleepy enough that I can safely pose them and that they don't react to each small movement as I position them.
Sometimes babies arrive asleep, and this happens right away. Other times it takes some soothing and settling to get them to this point. But with years of training and experience photographing babies, I have plenty of tricks up my sleeve and I often have parents asking me if I can pop round at 2am as I'm settling their little one!
CONTINUINING YOUR NEWBORN PHOTOSHOOT: WRAPS!
The second part of the photoshoot involves getting beautiful, wrapped images of your little one.
I have a number of beautiful, stretchy wraps in the studio. These are perfect for swaddling your little one. They are stretchy enough that I can wrap tight enough for your baby to feel snug and secure (just like being back in Mummy's tummy!) but also really stretchy and breathable, meaning your baby has wriggle room and can get nice and comfortable.
If your little one is unsettled or really awake, we may capture these images first.
Babies always fall asleep when they are wrapped up; It can help them fall into a deep sleep and then we can unwrap them and get the naked shots.
THE MOST AMAZING BOND…
The final part of the session is those all-important family photos.
For these we always start just with your hands and baby, these images are always some of my favourites!
It's in these photos, when your baby is beautiful positioned in your hands, that you can really see just how tiny your brand-new baby is! And in 5 years' time when your little one is running around, you'll wonder how they ever fit in them!
We'll then capture images of you with your baby.
For these images you can decide whether you want baby naked (if they are relaxed and happy) or wrapped up/in an outfit.
We will have discussed your outfits during your phone consultation but neutral tones with no large patterns or logos are perfect. You don't need to be too matchy, but you do need to complement each other.
I usually start with Mum and baby.
A number of clients in my consultations mention that they don't really feel like photos having recently had a baby. I get it! But let me reassure you that the family images I take aren't forced poses with awkward smiles!
All I ask you to do is hold your baby, kiss their cheeks, breathe them in and I photograph all the natural little moments in between.
We'll then bring in Dad and capture some beautiful images of you together looking down at your beautiful baby before getting some images of Dad and baby.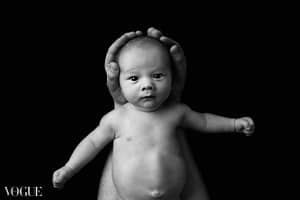 SIBLINGS LOVE!
Of course, if you have siblings, we will do our best to capture these too!
For younger siblings I will lie them down together. This is the safest way to position them with Mum or Dad staying close by too!
But I understand that when we have a 2 or 3 year old sibling they may not want to lie down and so I have several backups and tricks that we can try to get that shot for you!
And I don't give up very easily!
THE END… NOT QUITE!
At the end of your photoshoot, we'll arrange a convenient date and time for viewing session. It's during this appointment that I will show your images in a beautiful slideshow, you'll choose your package and I'll help you create wall art for your home that compliments your image and the space it will be displayed in perfectly.
Victoria J Photography specialises in Newborn & Baby photography for families in and around Condover, Shrewsbury.
Want to know more about my newborn sessions? Get in touch.
Find Us
Baby Photographer Shrewsbury
Family Photographer Shrewsbury
Cake Smash Photographer Shrewsbury
Unit 2, Condover Mews, Shrewsbury, SY5 7BG