Cancelling newborn photoshoots due to the Covid-19 restrictions was heartbreaking- for both myself but more importantly for my clients! The newborn phase is so short and so beautiful- photographing it and capturing memories is such a privilege and just the most incredible job!
Whilst I have no doubt that new parents everywhere are taking hundreds of photographs of their gorgeous brand new babies, I wanted to be able to offer something that parents were able to do, to capture baby photos from home- hence the introduction of my newborn composites from home service.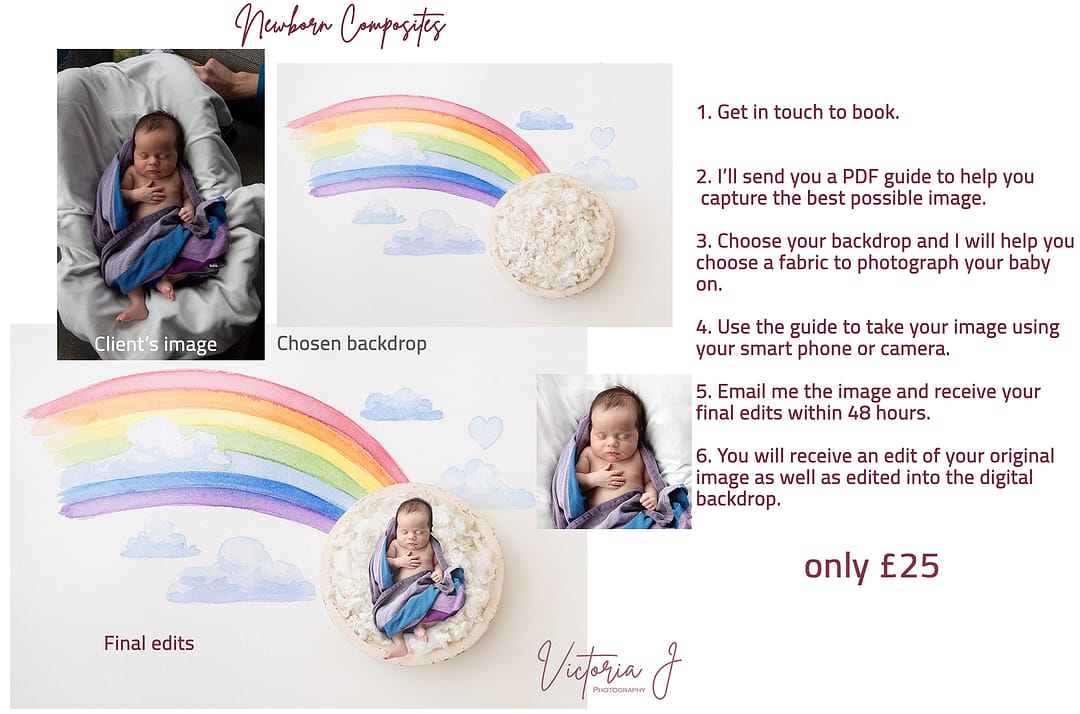 I have loved creating these and have had some lovely feedback from mummies who were upset to have missed their photoshoots but really happy to have something to remember this time by. The rainbow has been particularly popular with the current pandemic! Its never going to replace the experience and the images that are created during a full newborn photoshoot but it does provide a beautiful memory during a time when a full newborn photoshoot quite simply isn't possible.
Not only do you and your baby have this keepsake, it is also something lovely to share with grandparents and friends who I have no doubt are absolutely desperate to meet your little one if they haven't already done so.
For these images, you need to take the photograph at home. I have 15 backdrops for you to choose from and a guide which will talk you through taking the best image for your chosen backdrop. Take the image following my instructions either on a smart phone or a camera then email me over your image. You don't pay until I have your image and have checked that it will work so there's nothing to lose by having a go! Of course, if you need any help or want to check images work, please feel free to email me and I will point you in the right direction.
Want to know more about capturing baby photos from home? Access the guide below.
Vicki is a newborn and baby photographer working in Shrewsbury, Shropshire. Find out more about her sessions maternity, newborn, baby and family sessions.
Find Us
Baby Photographer Shrewsbury
Family Photographer Shrewsbury
Cake Smash Photographer Shrewsbury
Unit 2, Condover Mews, Shrewsbury, SY5 7BG