Baby Hacks: How to Dress Your Baby for Hot Weather
Babies are unable to regulate their body temperature for at least the first year of their
life so depend on you to ensure that they do not overheat.
Overheating can lead to dehydration which can be serious so take care in hot weather
and keep a close eye on your baby's temperature.
● Dress your baby in light layers made of breathable fabric such as cotton and
linen. Light layers will help prevent your baby from overheating and will be easy
to take off if they get too hot.
● Don't forget sun protection such as a sunhat and baby sunglasses. A sunhat with
a wide brim can help prevent heatstroke and keep your baby's head cool in the
sun. If your baby is old enough to wear sunglasses then consider protecting their
delicate eyes with a pair of 100% UV protection sunglasses from a reputable
source.
● If you are using a pram you can buy a pram umbrella to help shield your baby
from the sun, and clip-on battery-powered fans can help create a welcome
breeze.
● It might be tempting to cover the pram using a blanket to prevent the sun from
beaming onto your baby, however, it has been proven that covering a pram with
a blanket, even a lightweight cover, can increase the temperature inside the
pram and cause your baby heat stroke or dehydration. Instead, avoid being
outside during the midday and early afternoon heat.
How do I know if my baby is too hot or cold?
It is important to check if your baby is too hot or cold, which is quite easy to do and you
don't need a thermometer. Check your baby's temperature by placing two fingers under
their clothes on their chest or the back of their neck.
If they feel hot and sweaty they are too hot and you will need to remove clothing and cool them down.
If you are in a hot country, be mindful of your baby's temperature and
keep them out of the sun, especially during the middle of the day when the sun is the
hottest.
If they look flushed or they are breathing rapidly, move to a cooler location or
somewhere with air conditioning and remove layers of clothing. Make sure they are
given fluids, either milk, breastmilk, or water depending on their age, and monitor their
temperature.
If you check your baby's skin, again by placing two fingers into their clothing and onto
their chest or the back of their neck, and they are cold then you need to add layers of
clothing and blankets.
Natural fabrics, such as cotton, are perfect for creating warm base layers whereas
fleecy fabrics are great as external layers as they are perfect for trapping heat. Ensure
that their hands and feet are kept warm with mittens, thick socks, and booties.
If you are worried about your baby and their temperature, seek the advice of a medical
professional straight away for peace of mind and the most accurate medical advice.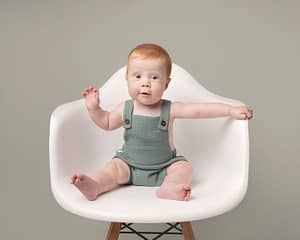 Vicki is a baby photographer in Shrewsbury offering maternity, newborn, baby and family photography.
Find Us
Baby Photographer Shrewsbury
Family Photographer Shrewsbury
Cake Smash Photographer Shrewsbury
Unit 2, Condover Mews, Shrewsbury, SY5 7BG