1st Birthday Photoshoots with Victoria J Photography, Shrewsbury Cake Smash Photographer
What better way to celebrate your little one's first birthday than with a photoshoot?! Huge amounts of fun and lovely images that will be treasured for a lifetime. But what would you choose?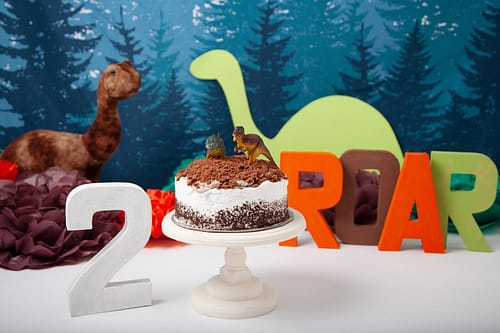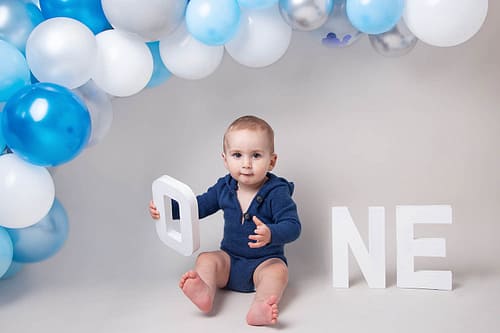 My most popular 1st birthday photoshoots are my cake smashes. These are loads of fun and can be customised to any theme or colour. All you need to do is decide on the theme or colour that your baby will love and leave the rest to me! I put together the set up, source the perfect outfit, the props and the cake that will compliment your theme. All you need is an outfit for the mini portrait shoot at the beginning of the session (and maybe a change of clothes, as it can get very messy once your little one starts smashing their cake!).
These sessions are in 3 parts. To begin, we get some timeless portraits of your little one. We will use some cute props, and maybe some balloons but most of the images from this section will be 100% focussed on the birthday baby! Once we have some beautiful images, we will get your little one dressed into their cake smash outfit and introduce the cake. This is loads of fun and things can get messy very quickly! I give baby a little time to get started here. Unless babies are very used to messy play, they can occasionally be a little cautious and take their time getting started. None of my sessions are rushed so this is no problem what-so-ever. We will give them lots of encouragement and help to get them smashing that cake. Mum and Dad, be warned that is may not be a very relaxing session for you – you may be required to encourage smiles and giggles, or even catch your little one and return them to the cake if they are confidently crawling, walking or running around! Rest assured though that it's all good fun and you'll have some lovely images at the end!
Finally, once your little one is all messy and has enjoyed their cake, we will get them all cleaned off in the bath tub ready for you to take them home! Often this is the baby's favourite part! Its very rare that I get little clients who don't love splashing in the bath. The images from this final section of the session are usually full of smiles, splashes and giggles!
However, a cake smash may not be for you or your little one and you may prefer a birthday photoshoot without the mess! More recently, I've had a number of requests for birthday photoshoots without the cake, but still with all the birthday props- whether it be balloons, bubbles, decorations! For these sessions, we tend to do a couple of outfit changes and a slight set change in order to get a beautifully varied gallery for you. If you want to bring along a fairy cake or two, this can work really nicely with these shoots, without the mess of the giant birthday cakes.
Just like the cake smash sessions, you just need to decide on a theme or colour and leave me to put together a set for you. For these sessions, we will use more props- the white chair is usually a big hit! The O, N, E letters, bubbles and balloons always go down well too. We want your little one to have loads of fun, loads of smiles and as a result, beautiful images.
Like all of my photoshoots, your session will take place at my cosy home studio, in Bayston Hill, Shrewsbury. 1-2 weeks after your photoshoot you will be invited back to view your gallery of 15+ beautifully edited images as a slideshow. It is then that you decide which package and which images you would like. Due to the bespoke nature of these sessions, I ask for a non refundable booking fee of £49. This will then be redeemable against your chosen package.
I'd love to create some beautiful images for you and your little one to celebrate their first birthday! Find my session information, FAQ's and packages here- Cake Smashes.
All you need to decide is which colour or theme you would like? So what will it be?....
Need help picking a theme? Here are some ideas ....
Unicorn
Rainbow
Space
Woodland
Fairy
Princess
Dinosaur
Jungle
Find Us
Baby Photographer Shrewsbury
Family Photographer Shrewsbury
Cake Smash Photographer Shrewsbury
Unit 2, Condover Mews, Shrewsbury, SY5 7BG